Chief Minister of Himachal Pradesh felicitated Dr. Varinder S Kanwar, Vice Chancellor- Chitkara University with "Environment Leadership Award 2019"
"In a natural world one creature's waste is another's resource"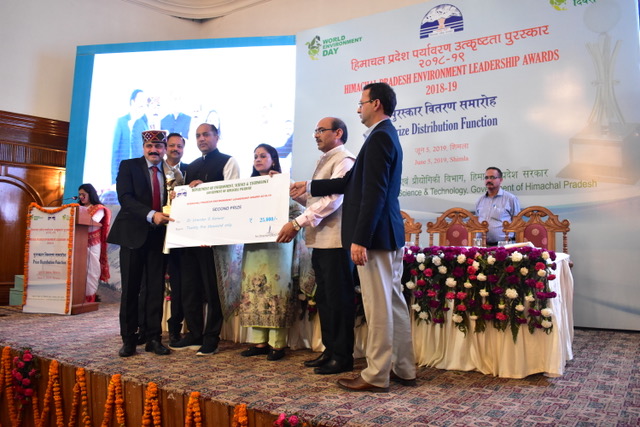 Glad and honoured to share that under the guidance of our mentors Hon'ble Dr. Ashok Chitkara and Dr. Madhu Chitkara @ Chitkara University we strive to bring a change in the society by providing a congenial and healthy environment and inculcating such skills in our students and stakeholders to take it further.
Dr. Varinder S Kanwar, Vice Chancellor-Chitkara University, Himachal Pradesh received second prize along with a citation, momento and cash prize of Rs. 25000/-, from Hon'ble Chief Minister of Himachal Pradesh, Shri Jai Ram Thakur at "Environment Leadership Awards 2019* recognizing Chitkara University, Himachal Pradesh for taking a ride on the *green* side and solving the problem of SLUDGE DISPOSAL faced by indutries situated in Baddi Barotiwala Nalagarh Development Authority (BBNDA) . .
Himachal Pradesh Government has also released a "Coffee Table Book" with special mention to University towards initiatives taken and best practices in the area environmental conservation and sustainability in Educational Institutions of Himachal Pradesh.
We are continually working to be a part of the solution, not a part of the pollution.