Dr. Madhu Chitkara honored with Lifetime Achievement Award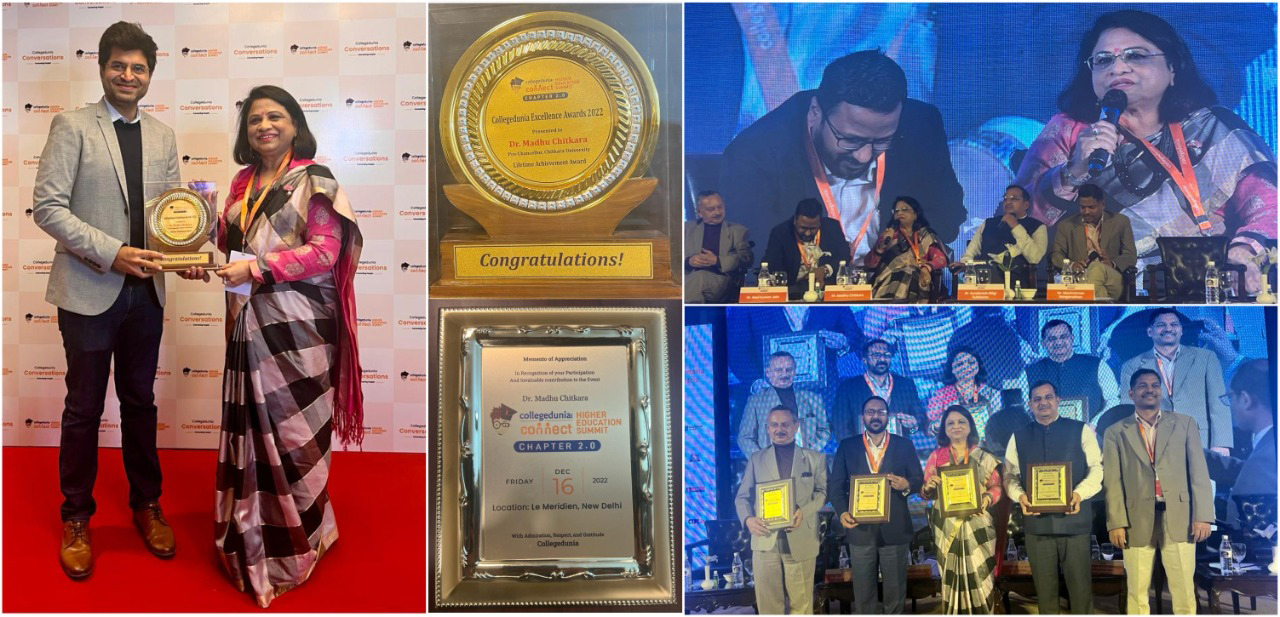 It is a moment of pride for the entire Chitkara University fraternity as our Hon'ble Pro Chancellor Dr. Madhu Chitkara has been honored with the Lifetime Achievement Award at the Connect Higher Education Summit 2022 Chapter 2.0 organized by Collegedunia.
As we know, for more than four decades Dr. Madhu Chitkara has documented accomplishments in the field of higher education and has had a life-shaping impact on the student community, organizations, and entire academia that transcends borders. Her achievements in leadership, teaching, and service to students are beyond exemplary, and it would be befitting to say that academicians like her are an asset to the entire education ecosystem.
While expressing her gratitude for the honor, Dr. Madhu Chitkara shared her insightful thoughts on the Evolving Modes of Education during the event. She broadly discussed the future of Education, which is popularly termed Education 5.0.
In her words, Teachers' productivity will increase/has already increased manifold times, as nowadays, teaching is not just restricted to PowerPoint presentations. The faculty employs Augmented Reality/Virtual Reality, Game Design/Simulations, & other related digital technologies making learning a beautiful and seamless experience. However, we must not forget that while everything is becoming digital and online, a part of the student community still emphatically believes in traditional learning methodologies.
While technology has undoubtedly helped education become more accessible through online mode, the key motivation for academicians should be meeting the demand of society and industry which collectively seek excellence and value from graduates passing out from universities.
Tags: